2021 Ram 3500 In Hanna, Alberta
2021 Ram 3500 In Hanna, Alberta
The RAM 3500 has for a long time dominated the market as one of the go-to options when it comes to choosing a high-performance heavy-duty truck. The 2021 Ram 3500 lives up to its reputation, delivering quality rides and unmatched luxury options. Higher trim levels of the Ram 3500 boast an impressive maximum towing capacity of 37,100. It is also fitted with a Cummins diesel engine that can generate a torque of 10,75 lb-ft.
Aside from its excellent performance, the 3500 heavy-duty pickup boasts an elegant interior finish coupled with some of the latest driver-assist and safety technologies. The launch of the 2021 Ram 3500 brought on a whole new perspective to the Ram inventory. Here are some of the features that make this model stand out among its peers.
Design, Exterior, and Interior
The 2021 Ram 3500 features two body styles, Regular and Crew Cab. The regular cab is designed with a seating capacity of three, while the Crew cab can seat up to six passengers comfortably.
The Ram 3500 offers several trim levels, spotting various features. For example, the Big Horn boasts heated mirrors that come in handy during cold seasons. On the other hand, those who choose to go with the Laramie model can enjoy 18'' polished aluminum wheels with front fog lights. Furthermore, car owners looking for a more stylish option that stands out can go with the Limited edition that features 20''silver and chrome forged aluminum wheels.
The interior of the Ram 3500 varies from trim level to another, as well as body style. One of the major differences can be seen in the difference in seating capacities of the Regular Cab and the Crew Cab. Lower trim levels are equipped with features fitted to the basic needs of a driver. However, higher trim levels feature leather upholstery with plush wood finishing and aluminum accents.
The Ram 3500 is also available with a 7'', 8'', or 12'' Uconnect touchscreen that varies depending on the trim level. The touchscreen is compatible with Apple CarPlay and Android Auto and can be synchronized with your smartphone. With the 2021 Ram, you'll find Bluetooth connectivity, a 6-speaker audio system, and five USB ports added.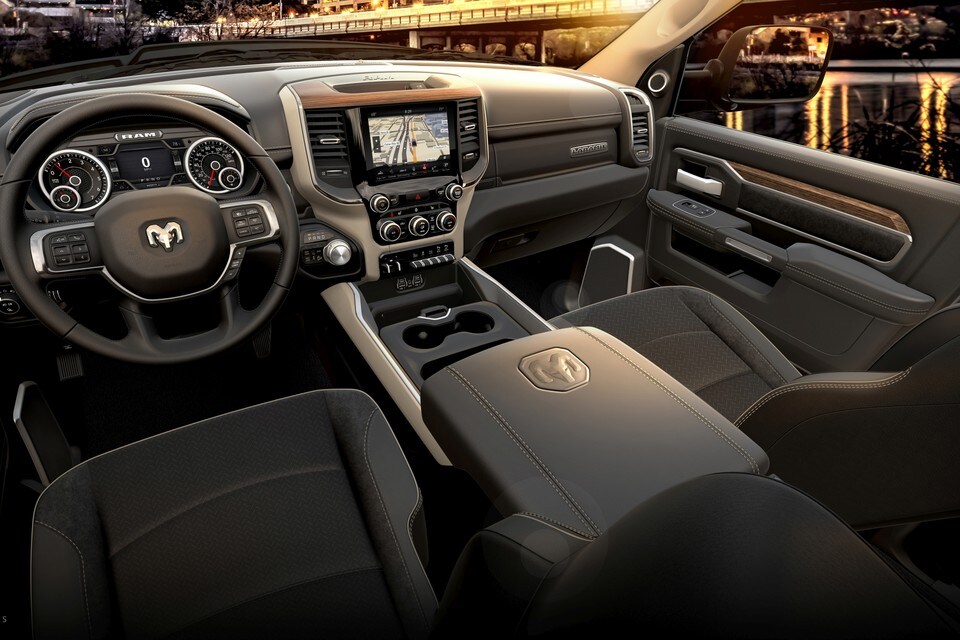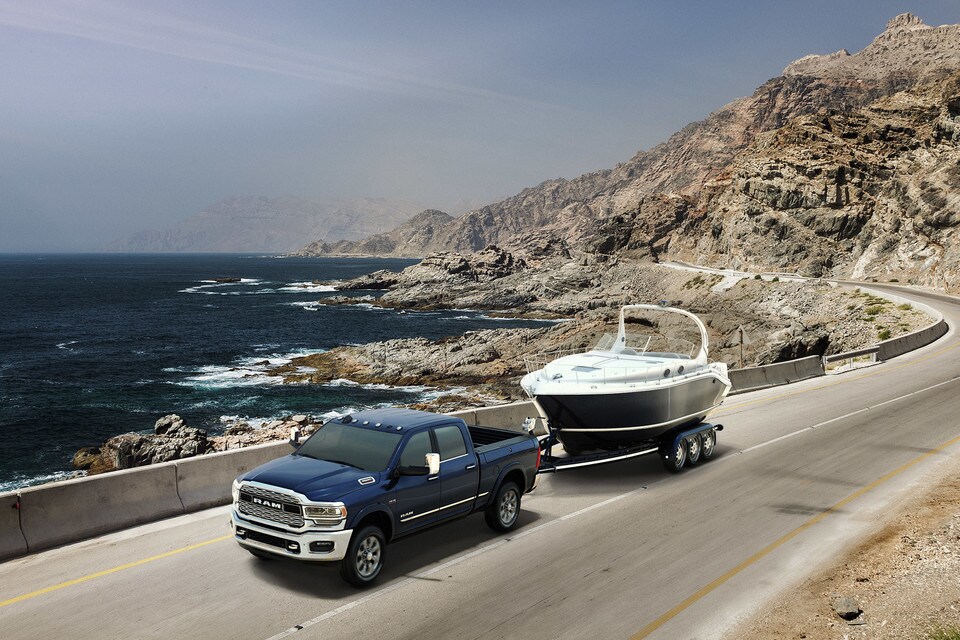 Towing Capacity
The Ram 3500 has been able to maintain its reputation for excellent performance owing to its towing capacity. The Regular Cab Tradesman with rear-wheel-drive is your best pick to deliver the maximum towing and payload. This model has a V8 engine, an eight-foot bed, and a 4.10 axle ratio that can carry a load of up to 7,680 lbs and haul a maximum of 37,100 lbs.
Other versions of this truck perform outstandingly. The version with the least towing capacity features a 4x4 high-output diesel engine with a 3.73 axle ratio that carries a maximum payload of 3,590 lbs. On this end, models such as the Limited 4x4 mega cab with a short bed can deliver a towing capacity of 15 990 lbs on a gas V8 engine.
Capability and Technology
With the 6.4-litre HEMI V8 engine, the new model can deliver a horsepower of 410 with a torque of 1,075 lb-ft, giving it the power to tow a maximum of 37,100 lbs. The strength of this truck is supported by several new and advanced tech.
The latest technology features include a 360-degree camera system and an 8.4'' or 12'' touch screen multimedia screen. On the safety features list, you'll find Front And Rear Park Assist, Blind-Spot Warning System with Rear Cross-Traffic Alert, Automatic Emergency Braking, an Integrated Trailer Brake Controller, and an Automatic Emergency Braking System and Forward-Collision Warning System and Adaptive Cruise Control.
The 2021 Ram lives up to its name with nothing short of the best performance, both on and off-road. With an affordable price tag to sweeten the deal, this model is arguably one of your best choices when it comes to heavy-duty errands. For more details on this model, you can visit our Finance Centre for various financing options or contact us for more information concerning the Hanna Chrysler new inventory.
Make an Inquiry