2021 Jeep Line Up In Hanna & Stettler, Alberta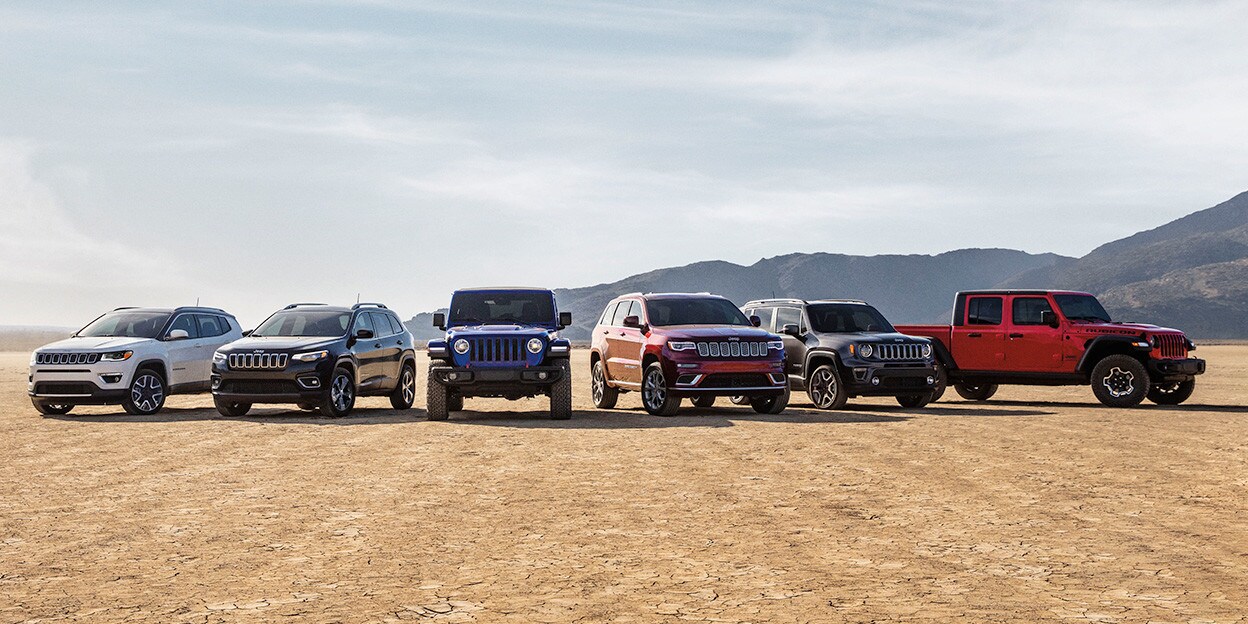 The Newest Jeep Lineup Near Stettler, Alberta, Available at Hanna Chrysler Ltd.
Now is the time to take an adventure in a Jeep. Right now, you can find a top Jeep vehicle lineup in Hanna, Alberta. At Hanna Chrysler Ltd., we are proud to offer every available model of Jeep and equally proud to serve the communities of Hanna, Richdale Stettler, Red Deer, Calgary, Drumheller, and surrounding areas of Alberta. This is your chance to drive some of the most capable vehicles on the planet. Discover why Jeep is more popular than ever.
What's the best Jeep model to buy?
There are several Jeep models available. Which one is best for you? Here's a look at each model.
The compact 2021 Jeep Compass in Hanna, Alberta, is the ideal choice for those looking to get into the Jeep brand for the first time. You have room for up to five passengers, excellent fuel efficiency and Jeep capability. This is the little Jeep that can do it all.
Are you looking for the ideal small SUV for the family, that delivers powerful performance and exceptional capability? Then you will want to look at the 2021 Jeep Cherokee. This is a capable and comfortable SUV that offers big room for up to five passengers. Just like it's bigger brother, the Jeep Cherokee offers numerous accessories so you can build it to suit your personality.
If you are looking for something a little larger, you can also test drive the all-new Jeep Grand Cherokee test drive in Richdale, Alberta. This mid-size SUV offer you room for five and some of the most excellent capability of any vehicle in its class. Also, the Grand Cherokee can be optioned up with top quality luxury features, so you can personalize your own Grand Cherokee to your liking.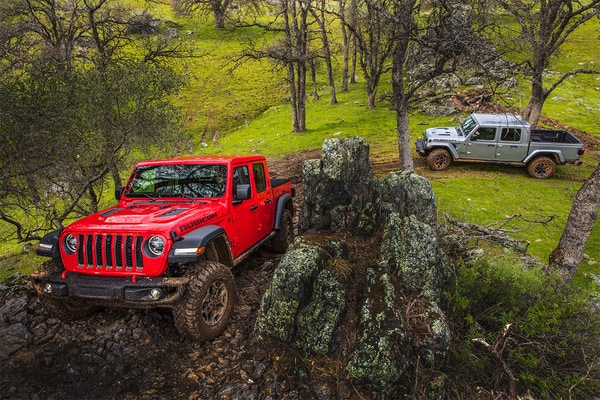 We also have the 2021 Jeep Wrangler in Stettler, Alberta. This is the iconic Jeep that is available in many different body styles. From soft-top to removable hardtop and more, there is a Wrangler for you.
Finally, you can find the 2020 Jeep Gladiator in Hanna, Alberta. This is Jeep's first-ever pick-up truck. You can take the Gladiator almost anywhere and enjoy excellent towing and hauling capability. The very fact that Jeep chose the name Gladiator tells you it's designed to combat any terrain.
Ultimately, you will want to test drive several Jeeps to see which one is right for you. If you are on a budget, then consider the Compass or Renegade. If you like open-air driving, then consider the Renegade, Wrangler or the Gladiator. If you are looking to take the family with you, consider the Cherokee or the Grand Cherokee.
Is Keep a good brand?
For decades, Jeep has been known for its excellent capability. The automaker can trace its roots back to the second World War. The first Jeep was developed as a wartime vehicle. After the war, Jeep became a commercial brand in 1945.
Since then, Jeep has expanded its line-up to include a diverse range of vehicles. The one common thread of all Jeep vehicles is their incredible capability. Some Jeep's are "Trail Rated" meaning that they are designed to traverse the most challenging terrain on Earth.
Today, Jeep is known for having the most capable vehicles on the planet. From compact SUVs to mid-size trucks, Jeep has gained a loyal following of fans across North America.
Which Jeep is the cheapest?
Right now, the cheapest Jeep that you can get is the Compass compact SUV. This SUV is extremely affordable and comes well equipped. Also, the Compass is designed to be one of the most capable vehicles in its class. If you're ready to learn more about the price, be sure to view our inventory and save today.
Our Dealership Dedication to Service
When you shop at Hanna Chrysler Ltd., you are going to get more than just a great deal. You will receive top attention that will make your purchase or lease experience something special. Our Jeep sales team will take the time to show you all the top features of your favourite Jeep.
Our team will also make sure that you receive excellent financing options that will make your monthly payment easy to handle. This is one of the many reasons we are among the most popular Jeep dealers in Alberta.
Take A Jeep For A Test Drive
You are invited to take a look at the 2021 Jeep lineup in Stettler, Alberta at Hanna Chrysler Ltd. This is your opportunity to visit our showroom, take a look at our incredible inventory, and take a test drive. We will be able to offer you an attractive Contact us today to learn more.